restore comfort, function, and the appearance of your smile
Associated Oral & Maxillofacial Surgeons has made dental implants a cornerstone of our practice. Each year, our surgeons replace hundreds of damaged and missing teeth with natural-looking, durable restorations. We also use the treatment to improve the fit and function of dentures.
Peoria, Galesburg, and Central Illinois patients choose AOS for dental implants because we:
Are specialists with years of practice in the procedure.
Have resources that make the experience convenient and safe
Have training in twilight and full sedation to make the experience comfortable.
Participate in ongoing skill development and leadership in implant techniques.


As a patient, you will receive care from our specialists in oral surgery as well as your restorative dentist. The AOS implant center will coordinate your appointments so that you have both quality treatment and the most convenient experience possible.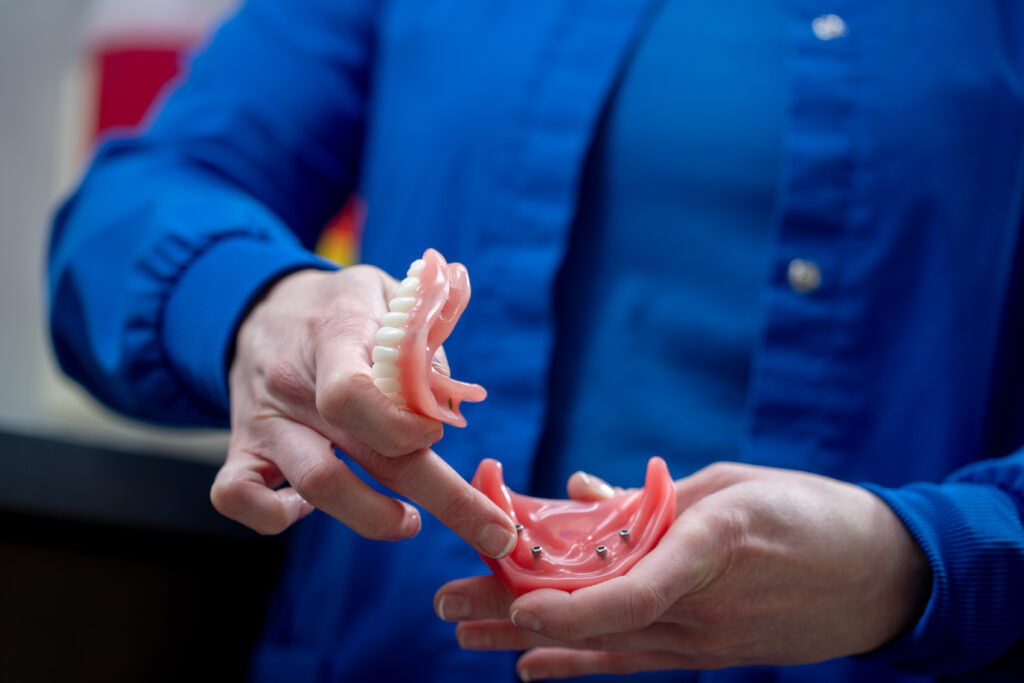 The Purpose of Dental Implants
A dental implant is a replacement tooth root. Positioned within the jaw and below the gum line, the implant connects to a single crown, a set of crowns, dentures, or a custom framework that supports a full arch of teeth.
A dental implant is often more durable than other restorations because it rebuilds the tooth from the root up. Alternatives such as bridges rely on reshaping and connecting to adjacent teeth. This can diminish the strength of the teeth and lead to future dental treatments. As a result, dental implants may be more cost-effective over the long term.
The treatment also helps to conserve bone, which may otherwise erode and create a gap between the gums and the new tooth. As a result, dental implants promote a more natural and aesthetically appealing appearance. Many of the patients treated by Dr. Busch, Dr. Otte, and Dr. Schroeder say that family and friends couldn't tell the difference between the restoration and their natural teeth.
Ideal Candidates for Dental Implants
You may be a good candidate for dental implants if:
You are missing a tooth or several teeth
You have teeth that require extraction
Your dentures are not working well or fitting comfortably
You prefer a solution that is long-lasting, natural-looking, and fully functional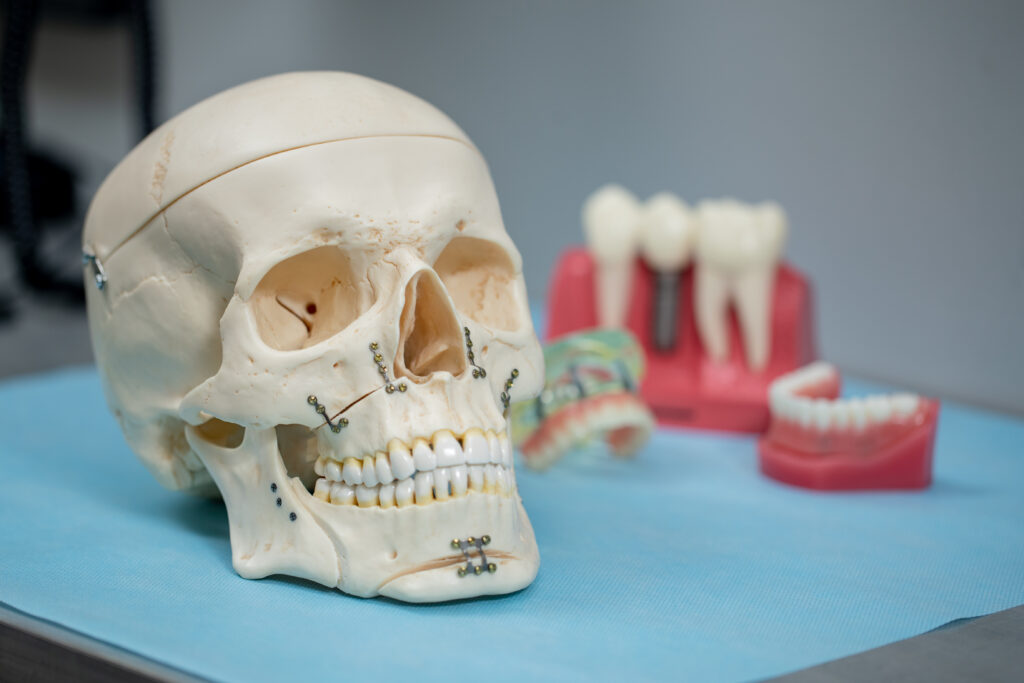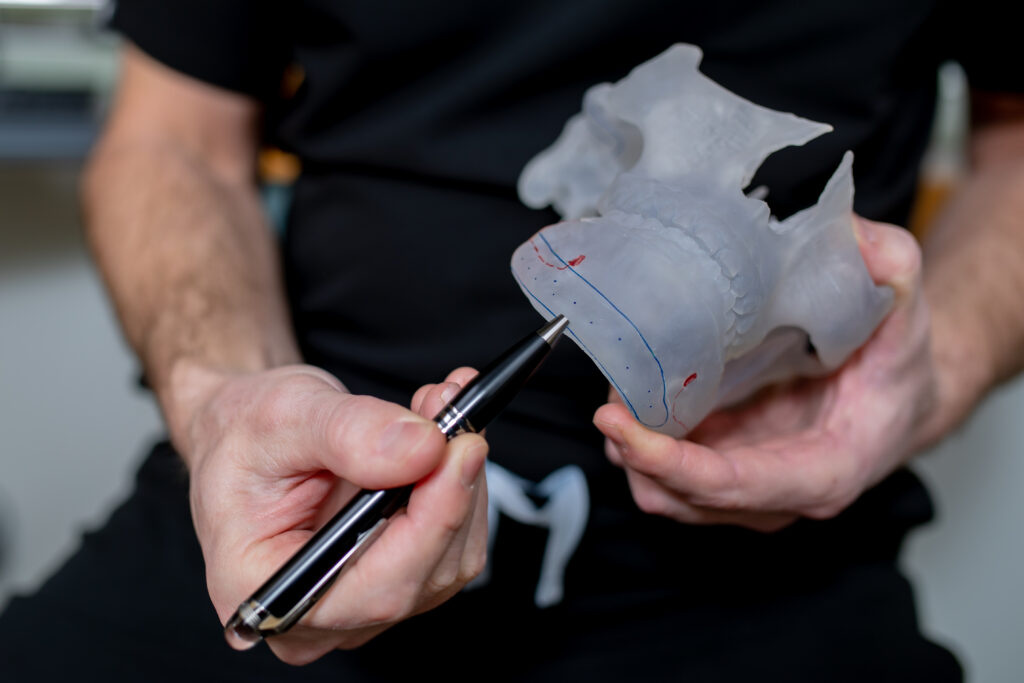 AOS' Approach to Dental Implants
The implant center at Associated Oral & Maxillofacial Surgeons manages the care of patients from all over central Illinois who are treated at our Peoria and Galesburg locations, making treatment with dental implants simple and convenient.
Start by scheduling an appointment with our practice. During your visit, your AOS surgeon will assess the area of concern and evaluate your needs. For example, if you have lost a tooth recently and require a replacement, your treatment will differ from a patient who has had a missing tooth for multiple years and may have experienced bone loss.
Following your assessment, your oral surgeon will prepare an individualized treatment plan and share the timeline for your care. Our practice believes that specialists in each area should perform your dental work to provide the optimal outcome, which is why:
Our specialists in oral and maxillofacial procedures will plan and place your dental implants.
Your general dentist will fabricate and place your implant crown(s) or denture(s)
The implant center will coordinate each visit and be your single point of contact.
What to Expect with Dental Implants Placement
Patients treated in our Peoria and Galesburg facilities may have several different treatments as part of their dental implant procedure, including:
Extraction of existing teeth
Bone Grafting to strengthen the implant sites
Placement of the dental implants
Whether and when you receive these treatments will depend on your needs. For example, some patients lack the bone tissue to support implants and require extensive grafts that will need time to heal. However, in many cases, Associated Oral & Maxillofacial Surgeons can extract teeth, add grafts, and place dental implants in a single visit. 
Before you receive dental implants, the oral surgeons at AOS will use 3D modeling to plan their placement. Your oral surgeon will duplicate the model's position, depth, and other features in the surgery. This precision leads to longer-lasting, more natural-looking outcomes.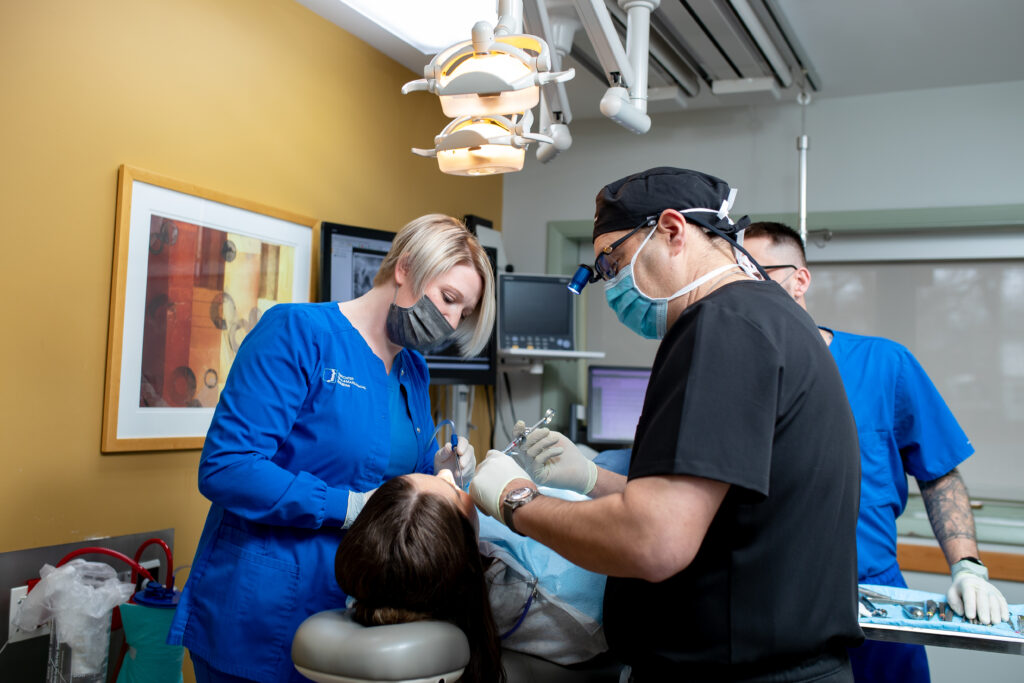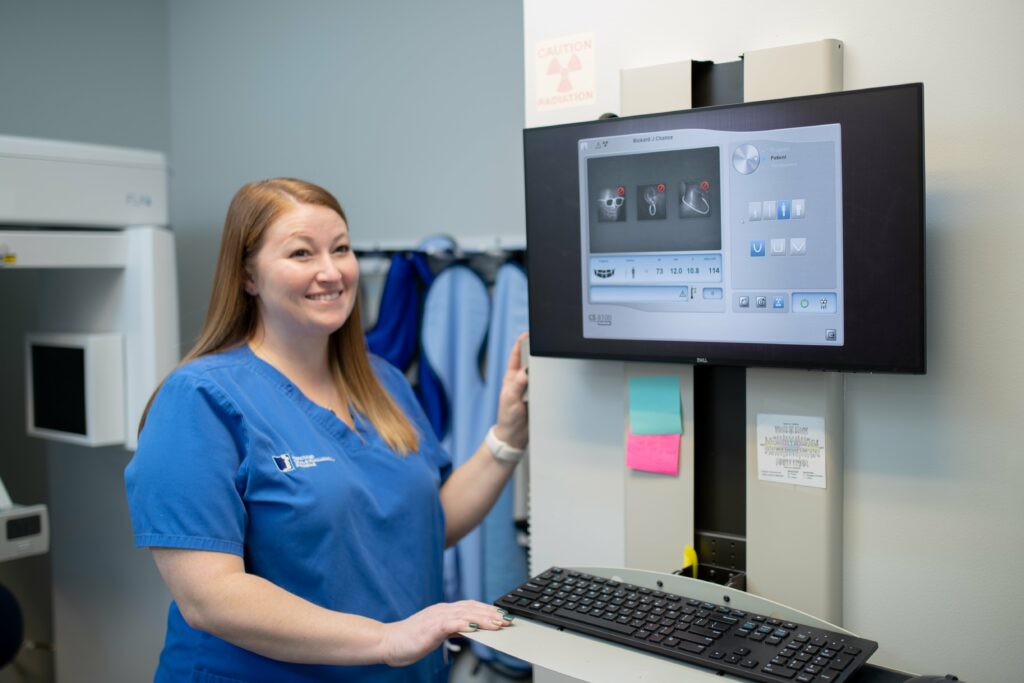 During the procedure to place your dental implants:
You will receive safe and monitored anesthesia.
Our surgeons are skilled in multiple anesthetic protocols and will keep you comfortable throughout your treatment. Anesthesia services are offered at our Peoria and Galesburg facilities.
Your oral surgeon can replace as few or as many teeth as necessary.
Even patients who are restoring the entire arch of teeth may only require 4-6 implants ("All-on-4®").
You'll never have to go without teeth.
Your restorative dentist will attach a healing cap or a temporary set of teeth to the dental implants.
Expect to return to our practice in two weeks and again 10 weeks after your procedure. At the final appointment, your oral surgeon often will obtain a digital impression for the restorative dentist. This will give your dentist everything necessary to create your new teeth. When ready for restoration, your general dentist will fabricate your final prosthesis.
Implant-Supported Dentures
If your dentures do not fit comfortably, strategically placed dental implants can create a better connection between them and your gums and eliminate the need for denture adhesives.
In this approach, your oral surgeon will place implants in the lower or upper jaw, and these will attach to the dentures. The procedure will depend on your needs and preferences:
You may require bone grafting to add strength and stability to the area receiving implants.
In the upper arch, your oral surgeon will place four or more implants. In the lower arch, you will receive two or more dental implants.
Patients typically choose either snap-on adapters that retain the dentures or milled bars that add stability and strength to the denture.

The process and treatment schedule are similar to those of standard dental implants. You'll return for follow-up visits to our Peoria and Galesburg offices, which our implant center will help you schedule. Our office will also coordinate with your restorative dentist in the creation of your new dentures, which he or she will attach during your final appointment. As a result of the procedure, you can expect a more stable bite, a better fit, and a natural-looking smile.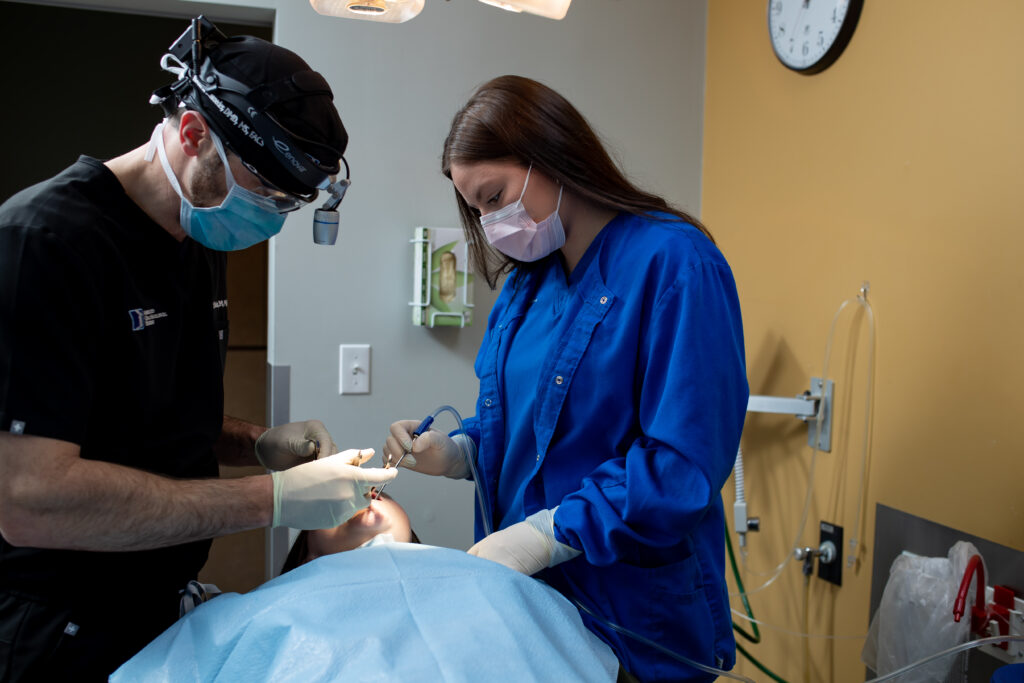 The advantages of dental implants.
Since implant-supported restorations replace the entire structure of your tooth, they mimic the look and feel of natural teeth for improved comfort and aesthetics.
By replacing the roots of your tooth, instead of just the crown, implants stimulate the jaw and prevent the tissue deterioration associated with tooth loss.
While all restorations will experience normal wear and tear, implant-supported restorations typically require fewer replacements than traditional options. In addition, the implant posts can last a lifetime with proper care.
Implants fuse with the tissue in your jawbone, creating a strong, sturdy bond. This process allows you to eat with confidence and enjoy all your favorite foods again.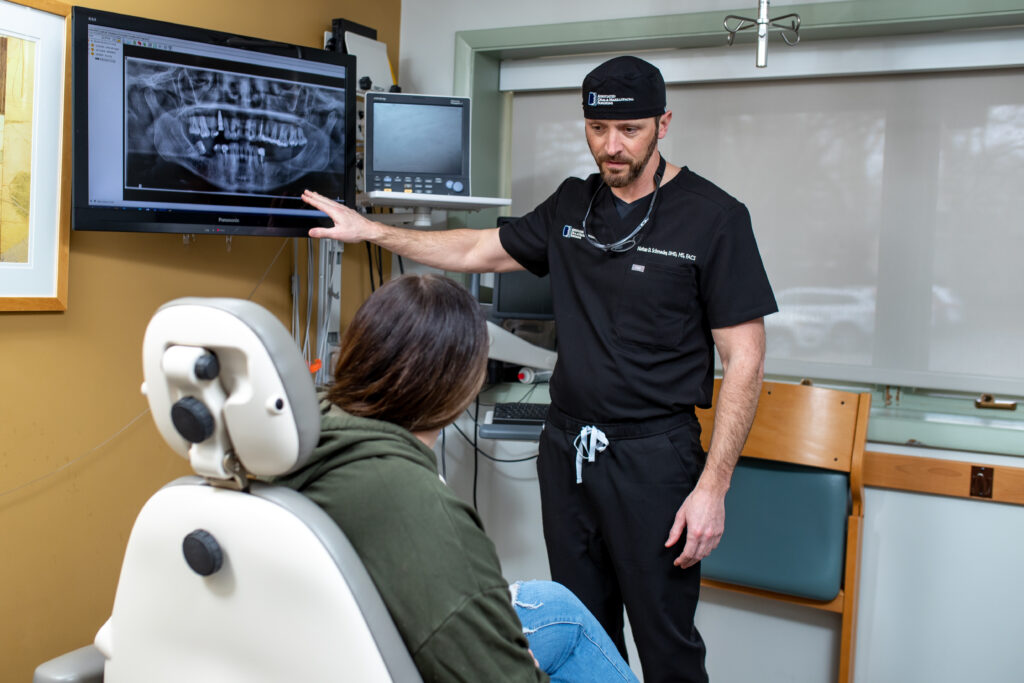 At Associated Oral & Maxillofacial Surgeons, we know how to help you. Our board-certified surgeons and expert staff can provide the care you need to relieve the discomfort you feel.
What are others saying about us?
"My experience at AOS was very positive. From the moment I was greeted at the door by reception to the helping caring staff, nurses, doctors and the understanding business office I felt like and individual not just a body."
"Extremely professional and great to work with. Top notch care and skilled folks from the business counter to the chair. Would highly recommend."
Fequently asked questions.