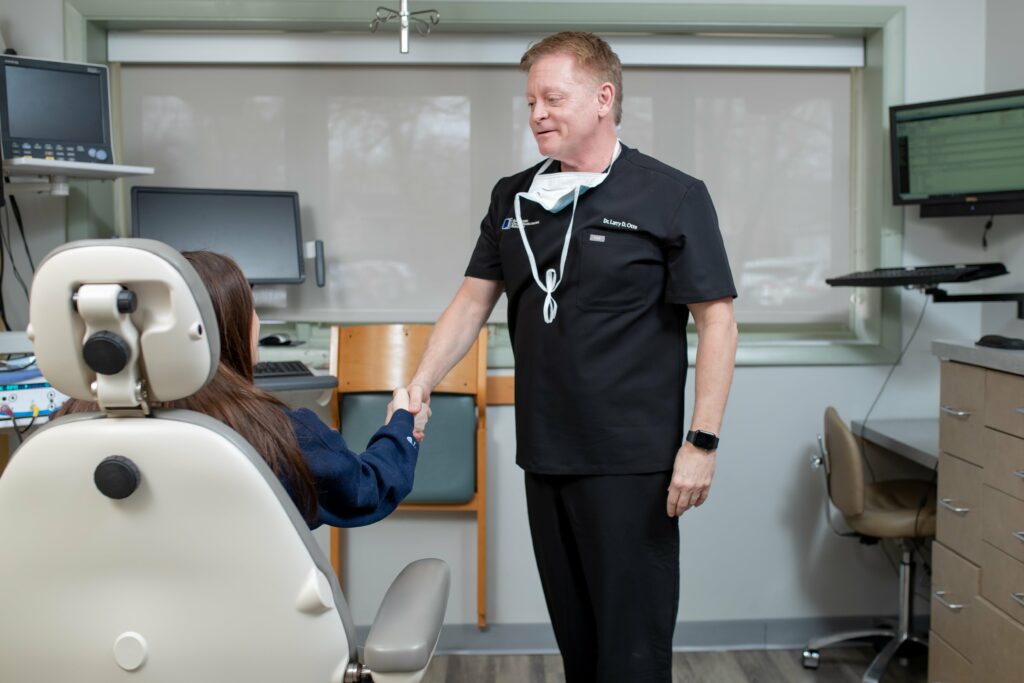 Just because it happened to a parent or a grandparent, does not mean it has to happen to you. 

An implant retained denture stops the deterioration of your natural facial structures. The implants preserve and stimulate the bone thus halting the resorption that occurs in areas where natural teeth are lost. Although conventional dentures may fit well at first, the dentures will eventually accelerate bone loss by wearing away at the ridges of bone they are placed on. 
Due to the continuous bone loss, conventional dentures will require the aid of adhesives for stability. This tends to be very messy and unreliable. An ill-fitting denture can also be the cause of painful sore spots. With the placement of implants, you'll no longer have the hassle of adhesives or the agony of tender gums. 
Allowing only 10% or less chewing power, conventional dentures will limit you to a soft food diet. With removing several foods you can no longer chew from your diet, you also eliminate many nutritional food items one needs for dietary health. An implant retained denture provided by Dr. Busch, Dr. Otte, and Dr. Schroeder has proven to help in regaining up to 90% of your chewing ability. In comparison of chewing ability, conventional dentures offer a life of eating foods like scrambled eggs to a life of enjoying a steak dinner.
Implant retained dentures offer a variety of advantages when compared to conventional dentures. We believe these advantages can often affect your quality of life. Contact one of offices in Peoria and Galesburg to schedule a dental implants consultation.
At Associated Oral & Maxillofacial Surgeons, we know how to help you. Our board-certified surgeons and expert staff can provide the care you need to relieve the discomfort you feel.
What are others saying about us?
"My experience at AOS was very positive. From the moment I was greeted at the door by reception to the helping caring staff, nurses, doctors and the understanding business office I felt like and individual not just a body."
"Extremely professional and great to work with. Top notch care and skilled folks from the business counter to the chair. Would highly recommend."
Fequently asked questions.