Protect your oral health with a tooth extraction
Tooth extractions can alleviate pain, eliminate potential sources of infection, make room for dental restorations and orthodontic alignment, and remove teeth damaged in an accident or sports-related injury. Whether you have a simple or complex case, Associated Oral & Maxillofacial Surgeons can support you with quality care.
AOS sees patients for tooth extractions at our conveniently located offices in Peoria and Galesburg. General dentists often refer patients to our practice because we are specialists who have been treating Central Illinois for nearly five decades. Over that time, our surgeons have performed thousands of extractions ranging from simple to complicated. Our experience and training in IV sedation and general anesthesia mean that we can keep you comfortable and safe throughout your procedure and provide you with optimal treatment.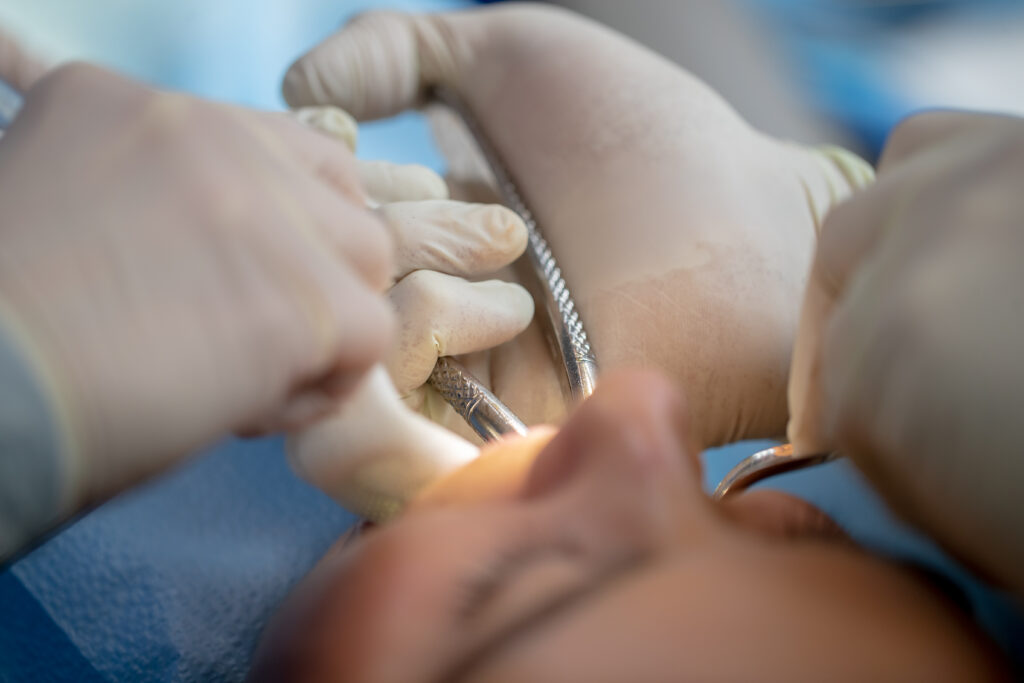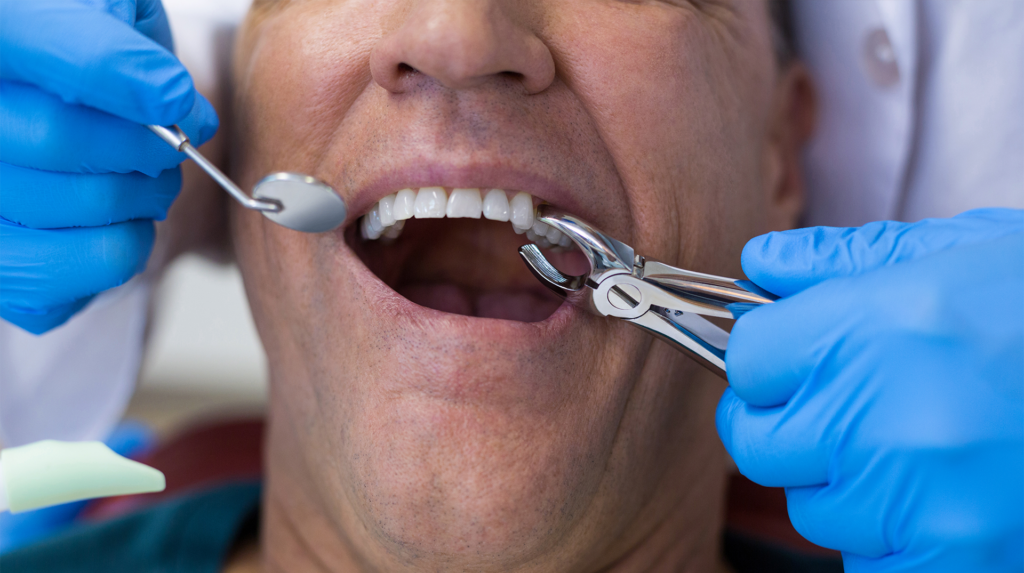 The Purpose of Tooth Extractions
In ideal circumstances, a dentist can preserve your original teeth by repairing damage and decay. This is not always possible, however. Associated Oral & Maxillofacial Surgeons perform tooth extractions for Peoria and Galesburg patients when keeping the original teeth proves too costly, too difficult, or simply is not possible. You may benefit from the procedure if you have a tooth that:
Has been worn down or damaged to the point that it is not a good candidate for a crown or veneer.
Is malpositioned or impacted
Is fractured down the root or below the gum line.
Is contributing to infection or gum disease.
Is crowding its neighbors and pushing other teeth out of alignment.
Removing these teeth can promote the patient's health, comfort, and, in some cases, dental aesthetics. AOS often combines tooth extractions with dental implants or All-on-4® to give patients a complete smile and a stronger bite.
AOS' Approach to Tooth Extractions
Peoria and Galesburg patients choose Associated Oral & Maxillofacial Surgeons for their care because of the advantages that experienced specialists offer.
Advanced planning. Your AOS surgeon will employ the latest in dental imaging to get a clear understanding of your teeth, roots, nerves, and facial skeletal anatomy. Our practice will use cone beam computed tomography (CT) to create 3D images of your mouth and to plan your treatment in detail. These initial steps ensure an effective procedure and limit potential complications.
IV sedation. Patients with tooth extractions at our Peoria and Galesburg facilities can sleep comfortably through their entire procedure. As oral and maxillofacial surgeons, we are extensively trained and certified to provide IV sedation and general anesthesia.  Sedation and general anesthesia can turn an unpleasant dental surgery into a very relaxing and enjoyable experience.
Specialization. Dr. Busch, Dr. Otte, and Dr. Schroeder perform tooth extractions and other oral surgeries daily. Along with this experience, we have training in advanced technologies and surgical techniques that improve accuracy and decrease surgical time. The combination of experience and technology means that AOS is committed to providing the best care available in accordance with today's surgical standards.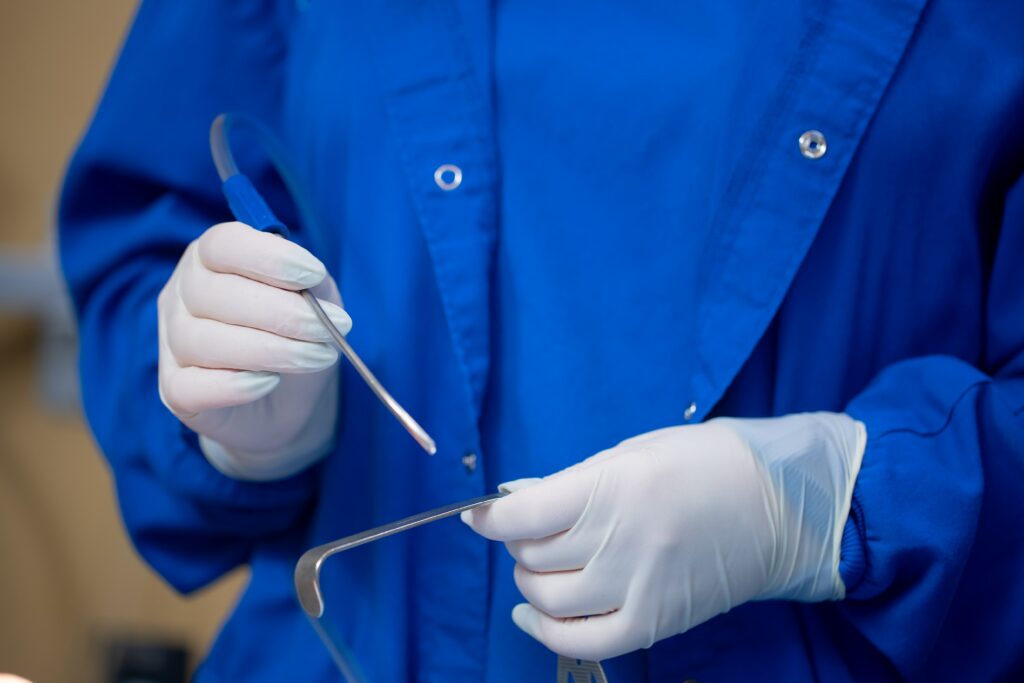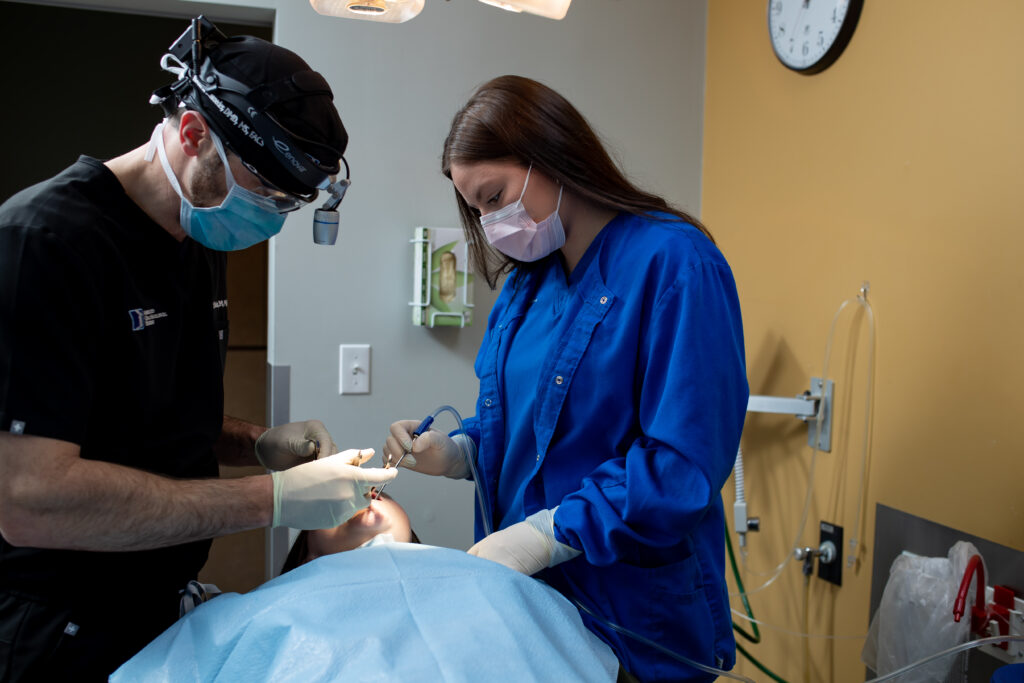 What to Expect with Tooth Extractions
If your requirements are routine and if your general dentist has already provided our oral surgeons with imaging and x-rays, you can have your initial consultation over the phone instead of in-office. Our nursing staff will review your medical history, answer any questions you may have, and work with you to schedule the surgery. In more complex cases, we ask patients to visit our offices in Peoria and Galesburg for an examination. In either case, you can expect attentive care.
On the day of your tooth extraction procedure:
Your surgeon will review the procedure and post-operative care instructions.
You will receive IV sedation/general anesthesia (which will allow you to be comfortable throughout the surgery).
The surgeon will remove the teeth and place resorbable stitches to close the gums.

Your surgery and recovery timeline will differ if your doctor also places bone grafts or dental implants in the same procedure. We can discuss these details with you.
Recovery and Results from Tooth Extractions
Peoria and Galesburg patients can return home after their procedure. If you receive IV sedation, however, you should have a friend or family member drive you.
For single tooth extraction, patients are frequently able to return to work the very next day. For multiple teeth extractions or more complex tooth extractions, patients may require several days of rest and recuperation before returning to work.
You can expect some minor bleeding and swelling after a tooth extraction. Swelling will typically peak at 72 hours and then subside progressively each day thereafter. A softer diet may be required for 7-10 days after tooth extraction.
At Associated Oral & Maxillofacial Surgeons, we know how to help you. Our board-certified surgeons and expert staff can provide the care you need to relieve the discomfort you feel.
What are others saying about us?
"My experience at AOS was very positive. From the moment I was greeted at the door by reception to the helping caring staff, nurses, doctors and the understanding business office I felt like and individual not just a body."
"Extremely professional and great to work with. Top notch care and skilled folks from the business counter to the chair. Would highly recommend."